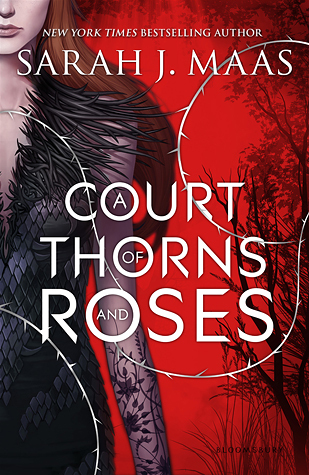 Title:
A Court of Thorns and Roses (A Court of Thorns and Roses, #1)
Author:
Sarah J. Maas
Rating:
3 Stars
It's no secret that Sarah J. Maas just doesn't do it for me. Her debut
Thrones of Glass
fell seriously short of impressive--for me, that is--and though I have regarded her fans with a degree of jealousy (seriously, no one wants to joins the Sarah J. Maas bandwagon more than I), I still remained skeptical about her latest,
A Court of Thorns and Roses.
When the masses praise Maas (see what I did there?), their recommendations rarely apply to me. With ACoTaR, however, I admit that this is far superior to
Throne of Glass
in every way. Not only has Maas's prose improved, but her plot, her world-building, and her characters are more lively and entertaining than ever. Still, though ACoTaR has jump-started her into the hearts of many readers, I'm afraid there is still no room for her in mine.
A Court of Thorns and Roses
reads much like a re-telling of the beloved fable, "Beauty and the Beast." And, at first, I loved it. I was head-over-heels for Feyre, the youngest of three sisters who has learned to hunt and feed her feeble family. I waited in breathless anticipation as it was pain-stakingly revealed that Feyre had broken the laws of the land by killing one of the Fey, under disguise of a wolf, and would be whisked away from her home and family to live out the remainder of her life with Tamlin, whose friend she killed. And then, just when it seemed I had arrived at my favorite part of this well-known tale--when Beauty falls in love with the Beast--I had the rug pulled out from underneath me.
You see, Tamlin is no Beast. Tamlin, despite the mask melded to his face, despite the fact that he and his kingdom are under a curse, is a Beauty. And Feyre, too, is a Beauty. Who ever heard of "Beauty and the Beauty"? The crux of "Beauty and the Beast" lies in the magic--the sheer
magic
--of having a young, capable, intelligent, beautiful woman find something to love in a snarling, grotesque beast. Tamlin, however, is
hot.
I wouldn't take much of an issue with this--after all, the "Beast" of Marillier's
Heart's Blood
is a strikingly good-looking man--but at least Marillier's "Beast" is snarling and rude, contemptuous and unapproachable. Tamlin is kind--sweet, even--and is eager to please Feyre. In fact, Tamlin goes above and beyond--ensuring that her family is taken care of, bringing her paints, showing her the hidden beauties of his kingdom--to make Feyre happy. Neither the reader nor Feyre have to work to love Tamlin. It's a foregone conclusion from the moment he transforms from his temporary bestial form to his ethereal self.
Having read Rosamund Hodge's
Cruel Beauty,
which pushes the boundaries of the "Beauty and the Beast" re-telling with a prickly heroine and a truly horrendous hero, I found ACoTaR to be tame, dull, and boring, even, in its romance. From the hype surrounding this novel, its eye-catching cover, and the synopsis that promised
so much more
I think my expectations were higher than they should have been. I really thought this was going to be more along the vein of
Cruel Beauty
than a New Adult novel in a fantasy setting. (And, for those of you on the fence about this, I highly recommend
Cruel Beauty
as an alternative.)
I find next to nothing compelling about an easy love story. It was well-written, I'll give it that, and I find immense potential in the world Maas has created, not to mention the secondary characters whose personalities are far more complex than that of Feyre or Tamlin, but I just didn't swoon at this romance. Is it fan-your-face hot? Absolutely! But the type of slow-burn, butterflies-in-your-stomach, giddy sensation that accompanies a well-written "Beauty and the Beast" tale was simply missing. Moreover, Mass
knows
this love story is too easy; she
knows
that it needs more of a challenge. So, the entire second-half of the novel, that's exactly what she does--introduce a few more thorns into this bed of roses. What I really enjoyed about the second-half of the novel is the fact that we, as the reader, finally feel the stakes at hand. We begin to question and worry and tense up at the thought that these two may not make it through, after all.
But, despite that, I much prefer a novel where the tension stems from the romance between the two leads--the plausibility of it, the question of whether or not it will finally come to fruition--than anything else. Moreover, I have my own plethora of spoiler-y issues with the second-half, namely from the way Feyre is treated as a woman. Nevertheless, I will not hesitate to admit that ACoTaR is compulsively readable and though this wasn't the re-telling I wanted it to be, I'm hoping that the sequel--an original, and not a re-telling, from my understanding--will pull me deeper into this world and its characters. For now, I'll wave the Sarah J. Maas bandwagon a disappointed goodbye.