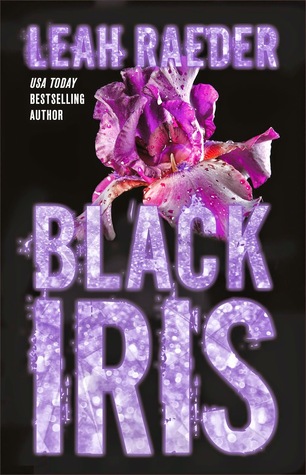 Title:
Black Iris
Author:
Leah Raeder
Rating:
4 Stars
I don't think I can adequately begin to express just how important of a book
Black Iris
is. I attend an extremely liberal, accepting college but, even then, this novel made me feel less alone and more comfortable in my own skin—and that's no small feat.
Black Iris
is a revenge story, one that I often found difficult to read, but Raeder's prose is pure magic and it is impossible to stay away from this book for long. While
Unteachable
was a clear-cut forbidden romance, filled with emotion and romance,
Black Iris
is its darker, more mysterious cousin. Raeder crafts this novel in such a way that timelines converge, split apart, and shift dramatically. It's easy to think you know what's happening or what the end result is or who the victim and perpetrator really are—but, truly, you've simply been kept in the dark until the final, all-too-unpredictable reveal. It's a brilliant feat of writing, this combination of prose and plot, and when you add Raeder's cutthroat emotion—the kind that seeps into your skin and deep into the pits of your stomach—it is evident that
Black Iris
is different. It is special.
In all honesty, I do not love this book. I don't think I could ever read it again—a strange combination of hitting too close to home and not too close at all—but that does not negate the fact that I thoroughly enjoyed the experience of it. More than anything else, I am grateful to Raeder for writing about sexual fluidity; for creating characters who do not fit in any boxes but still manage to find happiness. It is important for readers to be able to pick up a book and find characters they identify with—sexually, and personality-wise. With
Unteachable
Raeder already made strides in writing an unlikable heroine who, somehow, we manage to root for. With
Black Iris,
the lines are even more blurred. I do not know if I always rooted for this heroine, but I always respected and supported her decision; I always accepted who she was and her bravery in reaching that place of self-confidence.
Black Iris
is best read blind. I hesitate to discuss the plot or the characters or anything, really, with the exception of my feelings. And, oh my, did I feel. I fell for the wrong characters, I rooted for the morally corrupt, I switched sides. There is nothing I love more than a novel that inspires such a wide range of emotion and with
Black Iris,
that is precisely what you are guaranteed. Leah Raeder, thank you for having the courage to write such an important, meaningful novel. I appreciate your guts and, in particular, you sharing your story in the acknowledgements section. It means more than you can know, perhaps.