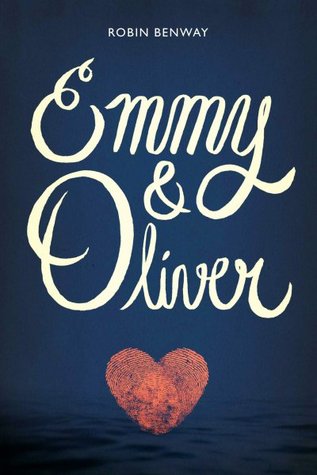 Title:
Emmy & Oliver
Author:
Robin Benway
Rating:
4 Stars
Release Date:
June 23rd, 2015
Emmy & Oliver
is the type of best friend romance I would normally be clamoring head-over-heels for...only, it's a liiitle more complex than that. Emmy and Oliver are not only neighbors, they're best friends. They've grown up alongside one another and for the first seven years of their life, they have shared everything, including their birthdays. When Oliver's father arrives to pick him up after school one Friday afternoon, no one thinks much of it. After all, Oliver spends every weekend with his father. When he doesn't come back to school on Monday, however, that's when Emmy starts worrying. When he doesn't come back for ten years, it's a tragedy.
At seven, Oliver is kidnapped by his father and, at seventeen, he is found in an apartment in New York City. To Oliver, his life has been a series of adventures; him and his father against the world. Oliver was led to believe that his mother abandoned him and, grief-stricken and confused, he never attempted to contact her. A curious Google search a decade later reveals that his mother has been searching for Oliver all her life. Oliver's absence has not only fractured his life, it has torn up the lives of their entire community. Emmy's parents, once carefree, have been strict, curfew-abiding jailers for much of Emmy's life. Their fear following Oliver's kidnapping has haunted Emmy her entire life and now, at seventeen, all Emmy wants is to surf and attend UCSD--dreams that will never be fulfilled as her parents have already planned that she will commute to college from home and instead of enroll her in dangerous sports like surfing, the most they have allowed her to do is have a car.
When Oliver returns, Emmy doesn't know what to think. She and Oliver were best friends ten years ago but can they still be best friends now? Is Oliver even the same person? Although Oliver hasn't been maltreated by his father, Emmy cannot even begin to understand his life or emotional state. She, living in the same home and growing up with the same friends, Caroline and Drew, who also used to be friends with Oliver, is comfortable and happy where she is. But Oliver, who has traveled around the nation and is coming all the way from New York City...does he even want to live with his mother anymore? While Oliver's mother never stopped looking for him, she also refused to stop living. Now married with two twin girls who Emmy babysits every week, the world has gone forward despite the fact that Oliver has come back and the road ahead for Emmy, Oliver, and those closest to them is paved with hardships.
It took me awhile to truly immerse myself in this tale, primarily because Benway has to set-up the backdrop of this novel and Oliver's story is a sad, depressing one. Though he doesn't suffer from trauma and has been treated like a son by his father, he doesn't go out of his way to befriend students and his arrival in high school isn't the easiest of transitions. Yet, Emmy is a laid-back, easy-going heroine and her willingness to draw Oliver back into her life is what truly made me invested in this love story. Emmy is frank and open about her life, showing Oliver her favorite spots to surf and immediately treating him as the friend he always was to her. The fact that Emmy accepts that Oliver was gone for ten years but acts as if he knows her is what enables him to leave his shell and slowly join her circle of friends.
Emmy and Caro are the type of best friends you always read about or see on television but Benway makes them even more realistic than the classic portrayal. Caro is the youngest of five siblings and unlike Emmy, who is an only child and under the constant scrutiny of her parents, Caro's parents could hardly care less where she is or what she does. She shares a room with her messy older sister, Heather, and Caro dreams of sharing an apartment with Emmy and attending college with her. Drew, who has recently told his family that he is gay, struggles with the fact that his parents still love him and yet are disappointed in him. Their trio is a tight one and while Emmy grows and changes due to Oliver's presence in her life, her friends do too. They each have their own issues and the fact that they became so alive, despite remaining secondary characters, is a testament to Benway's skill.
Emmy and Oliver's own romance is sweet and slow to develop. You're almost not certain if they'll choose to remain friends but it's so very obvious that their feelings for one another run deeper than mere friendship and the support they give one another is incredible to watch. Emmy and Oliver have one another's backs and when they find it difficult to speak with their parents or other friends, they somehow have the right words to coax the truth from one another. Reading about their relationship is heart-warming and swoon-worthy in all the right ways. Especially because, first and foremost, they will always be friends.
I really enjoyed how this novel focused so deeply on family units and parental relationships. Whether it be the relationship Emmy sustains with her parents where she is forced to hide parts of her personality to please them or the one between Oliver and his mother where he feels unable to confide in her, Benway captures both the difficulties and joys of family.
Emmy & Oliver
is being marketed as a love story but, truly, I felt as if the romance was secondary to the growth both Oliver and Emmy undergo over the course of this novel and, what's more, their friendship and relationships with others--from their parents to their friends to the one between Oliver and his father--is what is at the crux of this novel. Sure, there's a love story too--a sweet, sweet one--but
Emmy & Oliver
is about so much more than that mere label.
Benway writes in a manner that makes even the darkest of subjects accessible and her trademark humor, combined with the easy sarcastic dialogue she imbibes within her characters, makes her novels fly by. I just can't put one of her books down and
Emmy & Oliver,
with an older cast on the cusp of transitioning into college, brings forth a variety of themes and concepts that I love to see in YA. Benway explores the idea of freedom in college, not to mention the harsh reality of leaving behind your high school friends, with such aplomb that I hope she returns to this older YA age group and explores more of those ideas in greater depth. Having read her entire backlist at this point, I cannot wait to see what she has up her sleeve next (I'm keeping my fingers crossed for another
Also Known As
novel). Whatever it is, though, it'll be worth the wait.