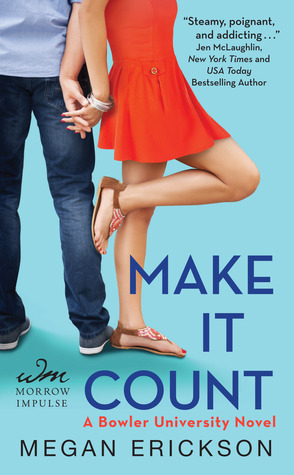 Title:
Make it Count (Bowler University, #1)
Author:
Megan Erickson
Rating:
1.5 Stars
Make it Count
began with an incredible amount of potential. After all, what's not to love about a sexy nerd? Ever since I realized I was a not-so-sexy nerd, all I've wanted in life are sexy nerds. Yet, for many readers,
Make it Count
is going to be a novel to avoid merely because its set-up deals with cheating--which I know is a no-can-do subject for many of my friends. Kat and Alec, the protagonists of our tale, have exactly one thing in common: Max. Kat is dating him, Alec has known him since elementary school, and though both Kat and Alec are incredibly good-looking people themselves, their similarities start and end with Max. Until, that is, Alec is assigned to be Kat's new statistics teacher. While I assure readers that there is no form of physical cheating in this novel, there
is
emotional cheating. I don't avoid cheating books merely because I've read a few instances where an author has been able to build a believable story around this issue but
Make it Count
isn't one of those novels.
Max, Alec's best friend, is portrayed as one of the
worst
boyfriends on the planet. Not only does he repeatedly ignore Kat and nag her, but he cares little for her interests and their relationship is very much short-term hook-up material. What I really didn't like with
Make it Count
is the fact that Max is essentially the villain here despite the fact that he and Alec are best friends. From the beginning of the novel, Max is acting "differently" than usual and when we find out his secret, later in the story, it only serves to thrust Kat and Alec's romance in a more positive light. If you're going to write a cheating novel, don't take the easy way out.
What's more, the Standard Romance Plot of a romantic couple falling in love, getting together, and having a misunderstanding occurs within the first half of this story. While I thought the last half would be dedicated to a meaningful look into New Adult, instead it is simply a prolongment of the misunderstanding between Kat and Alec...for
half the novel.
If you're a fan of excessive drama--think Colleen Hoover, friends--then
Make it Count
is going to be exactly up your alley. As a reader who has little to no tolerance for drawn-out fight scenes in which the heroine waits around for her boyfriend to figure out what he did wrong, this was a chore. Especially since I didn't think that Kat was entirely blameless in the situation, so the fact that she waits for Alec to read her mind and apologize felt extremely passive to me. Throughout the novel Kat has been a go-getter; making the effort to improve her grades, taking over in the bedroom, etc. I wanted her to take some initiative in her relationship with Alec and their entire dynamic ultimately didn't feel as equal and grounded as I expected it would be from the beginning of the novel.
Dramatic, filmy, excessively annoying...all of these are adjectives I'd use to describe my experience with
Make it Count.
What upsets me the most about this novel, though, is that is had
so much potential.
Alec and Kat are genuinely nice people dealing with issues that go far beyond the cheating scandal they find themselves in. Moreover, they are extremely self-aware of their involvement with one another as it pertains to Max so, if done right, this is a story I could have really gotten behind. Kat also brings in a much-needed dose of diversity to the genre. You wouldn't know from the cover, but the girl is Brazilian, born and brought up in a bi-lingual household with immigrant parents who did what they thought was best for her despite the fact that, often times, it was far from that. I understood and sympathized with Kat's struggles and I wish that her story line wasn't marred by her lack of her personal agency towards the end of the novel. I applaud her for taking the necessary steps in her educational career, but in terms of her relationship with Alec...well, it was just too much for
me
to handle.
Make it Count
isn't on its way to becoming the next best New Adult novel. It had its strong suits and doesn't lack in potential, but this just gave me more of a headache than I wished.