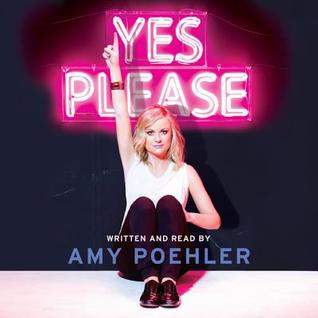 Title:
Yes Please
Author:
Amy Poehler
Narrated By:
Amy Poehler
Rating:
4 Stars
In Amy Poehler's highly anticipated first book,

Yes Please

, she offers up a big juicy stew of personal stories, funny bits on sex and love and friendship and parenthood and real life advice (some useful, some not so much), like when to be funny and when to be serious. Powered by Amy's charming and hilarious, biting yet wise voice,

Yes Please

is a book is full of words to live by.
Having binge-watched all six seasons of "Parks & Rec" in the past two weeks, I couldn't resist the audiobook of
Yes Please.
While many readers have assured me that I'm missing out by not having a physical copy of this novel to peruse, filled as it is with pictures and other creative images, I wouldn't hesitate to recommend a listen of this novel. Poehler's voice is animated and intimate, impossible to stop hearing, and the guest speakers and sound effects she adds makes this a truly unique listening experience. While I didn't enjoy every single one of the memories shared, the ones I did fall in love with affected me deeply and profoundly. There's something reassuring about a celebrity memoir in that the aspects of life they share in common with you only serve to humanize them and make your own life experiences seem that much better since, if Amy Poehler had similar thoughts, surely I must be a pretty exceptional person myself? Regardless, I loved this book for its raw, open advice, it's silly lists which made me laugh out loud, and the superb narration which made it feel as if I was listening to a movie or a play, not a book. For fans of audiobooks, memoirs, or just Amy Poehler, this is a must-read.