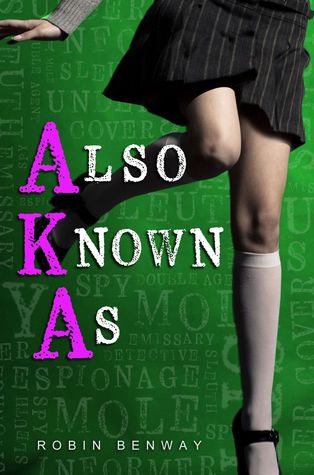 Title:
Also Known As (Also Known As, #1)
Author:
Robin Benway
Rating:
4 Stars
Also Known As
is a brilliant, fresh, and innovative take on the classic teenage spy idea. While I've enjoyed Ally Carter's
Gallagher Girls
and
Heist Society
books, I find that Benway's concept manages doesn't take itself quite so seriously and the end result is not only compulsively readable and instantly relate-able, it's also downright adorable and incredibly humorous. Maggie, the protagonist of our novel, is a genius lock-breaker and safe-cracker. Born to a set of spies who work for an organization known as The Collective which brings down the bad guys of the world, Maggie has spent her life traveling the globe, saving the world one assignment at a time. When Maggie and her parents are sent to New York City, however, this is the first time Maggie has a mission all of her own--one in which her parents can't aid her in the least. And her mission? Befriend local high school student, Jesse, and steal the files his father possess which could expose the members of The Collective, Maggie and her parents included. For Maggie, this meant that she actually had to step into the dreaded institution immortalized by every film, novel, and magazine for its cutthroat citizens, ruthless exams, and downright miserable atmosphere: high school.
Seriously, who doesn't want to read a novel about a kick-ass teenage spy whose greatest challenge is high school? Maggie's voice is so honest and likable from the beginning itself that it's impossible not to fall in love with her sarcasm, wit, and all-round general awesome-ness. Seriously, this not only the girl I'd want guarding my back in a gunfire, she's also the chick I'd love to call my best friend. Maggie and her parents, despite their unconventional lifestyle, share an incredible relationship which is truly put to the test as Maggie becomes a normal high school student, for the first time in her life, and her parents find themselves having to dole out curfews, check up on homework assignments, and attend parent-teacher conferences. For a family who has operated on private jet planes and breaking-and-entering missions, it's a whole new world. I really enjoyed, however, how Maggie's parents played such a large role in her life and their conversations and arguments were completely realistic and all-too-believable.
Another aspect of this novel that I
love
is Roux, the loner Maggie befriends. As a spy, Maggie isn't supposed to make friends or become attached to the people on her mission, but she slowly begins to realize that normality is what she craves after a far too exciting childhood. Roux, who slept with her best friend's boyfriend the year before, is your classically unlikable and downtrodden high school student. She's the one they all label "slut", she avoids every high school party imaginable, and until she can graduate, the high school population will never let her forget what she's done. Yet, there is absolutely zero slut-shaming in this novel and it is Roux who becomes Maggie's best friend and confidant. Roux has a prickly exterior--one she's been forced to accumulate due to the acerbic quality of her fellow classmates--but inside, she's just a big softie craving love and attention. Her parents, outrageously wealthy, are constantly traveling and rarely check up on Roux who lives alone in the Upper East Side for weeks on end. She's not your classic secondary character in the least but that's what I love about her and her character is simultaneously lovable, loyal, and unforgettable.
Perhaps the aspect of this novel most integral to the plot, however, is Jesse. Though Jessie is Maggie's mark, she finds herself falling for him--hard. At first glance, Jesse seems like a typical bad-boy, good-for-nothing student. Not only is he failing calculus, but he was caught shoplifting a copy of
Catcher in the Rye
as well. But as Maggie gets to know Jesse more and more, she realizes that there is far more to him than what her initial research revealed. And she
likes
him. Their romance is utterly adorable and, though you wouldn't expect it, drama-free which I appreciated. I love how level-headed these two are and they manage to balance one another perfectly. Everything about them, from their first kiss to their first date, just made me smile so much; my cheeks hurt. It's the perfect example of a YA romance that really enriches Maggie's life and adds to it instead of causing drama or hurt instead.
Angelo is yet another secondary character who really stands out in this series. He's a close friend of Maggie's parents and basically an adoptive uncle to her. Not only is he a skilled forger and a guide to her in her spying endeavors, but he's an adult--who isn't her parents--who Maggie trusts and relies on. His wisdom is aptly given and delivered in such a way that Maggie is more likely to listen to his advice instead of those same words from the mouth of her parents. I just really appreciate that Maggie has another adult in her life who serves as her inspiration beyond just her parents.
Also Known As
is such a strong novel precisely because of the strength of its characters. Maggie maintains such strong relationships with all of those closest to her, from her parents to Angelo, and slowly her family starts to grow and expand to include Roux and Jesse as well. Moreover, the crux of this novel lies not in assignments and spying, but rather in Maggie comes to terms with what
she
wants from her life and defining that not only for herself, but for her parents too. Maggie begins to question whether a life dedicated to The Collective is really for her when she sees the advantages that normalcy can bring and the fact that the core of this novel is a classic coming-of-age tale is what makes me love it most. Robin Benway is quickly on her way to becoming one of my most favorite authors
ever
and if you read
Also Known As,
you'll definitely see why.