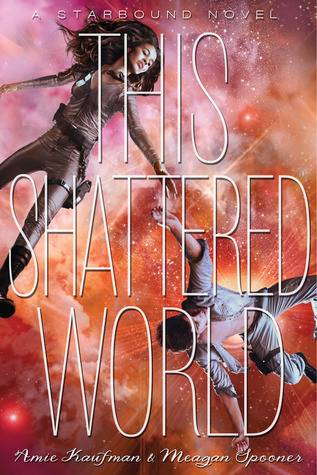 Title:
This Shattered World (Starbound, #2)
Authors:
Amie Kaufman and Meagan Spooner
Rating:
4 Stars
Release Date:
December 23rd, 2014
I have to be honest:
This Shattered World
isn't nearly as good as
These Broken Stars.
But, it's still
really, really
good. With this companion novel, Amie Kaufman and Meagan Spooner not only introduce us to new characters which burrow their way into our hearts, but they significantly expand on their galactic world as well. While
This Shattered World
didn't capture my heart to the extent
These Broken Stars
did--it lacked the same level of swoon-factor and, what's more, I missed the back-to-back revelations--it's a sequel I wouldn't hesitate to re-read, re-visit, and cherish on my shelves.
This Shattered World
takes us to a new planet, Avon, where the terraforming that should have taken place never has. Thus, there is a divide between the original residents of Avon, now rebels and militants fighting for their planet back, and military personnel who have been hired to keep the peace and monitor the planet. Flynn, the younger brother of a rebel leader who died for their cause, is now leading the rebellion against the corporations which have taken over Avon. When he captures Captain Lee Chase, a deadly fighter sent to crush the rebellions occurring on Avon, the course of their lives changes forever.
The opening pages of
This Shattered World
are impossible to look away from. Lee and Flynn's initial meeting, Lee's kidnapping at the hands of Flynn, their travels in the swampy marshlands of Avon to the rebellion hideout... It all feels cloaked in an aura of dream-like reality. Not only is it a brilliant start to a novel that is full of action and betrayal, more so than
These Broken Stars,
but it also introduces us to two such strong personalities at their best. Lee, whose name is uttered in fear as she is a tough captain, is immediately placed in a position of vulnerability where she finds herself duped by a rebel. Thus, the antagonism between Lee and Flynn is understandable though the slow manner in which their perceptions of one another grow to change is simply captivating.
While Tarver and Lilac's story felt so isolated--the two of them, a mysterious planet--Lee and Flynn's story is set against a backdrop of war, rebellion, and years of suppressed misconceptions and anger. It raises the stakes in their relationship and makes that eventual reconciliation between the two seem far more inevitable than that between Tarver and Lilac. After all, what is social hierarchy in the face of war? Yet, their story is completely unpredictable from start to finish and I found myself pleasantly surprised by the turns the narrative would take and, moreover, the slow build to the truth about Avon and its lack of terraformed earth.
Although Lee and Flynn's romance is not as large an aspect of this novel as Tarver and Lilac's may have been, it is no less effective and swoon-worthy. Additionally, the dual narration, giving us both Lee and Flynn's perspectives, is executed to perfection. Not only are both their voices completely different, but their demons are too. Lee and Flynn's pasts play an integral role in their growth and romantic journey and witnessing that from two perspectives allowed these two to become as near and dear to my heart as Tarver and Lilac themselves.
This Shattered World
would not be complete, however, without a glimpse at our previous hero and heroine. Tarver and Lilac don't play a huge role in this novel, but their parts are more substantial than I anticipated and I loooved re-visiting them. Flynn, Lee, Tarver, and Lilac. I love these characters, the depth of their personalities, and their relentless passion for the galactic world at hand. Without a doubt, I know that the next novel Kaufman and Spooner write is going to be just as good, if not better, than these previous installments. In my eyes, they can simply do no wrong.