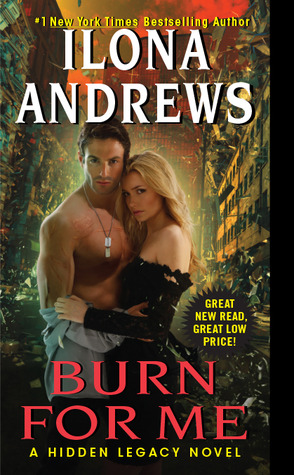 Title:
Burn for Me (Hidden Legacy, #1)
Forget the new
Kate Daniels
book, I just want more of the
Hidden Legacy
series. It speaks to the immense strength of the Ilona Andrews writing duo that, despite diverging from a well-known and slightly formulaic series, they still manage to put forth innovative, fresh, and genuinely captivating novels. It was already evident from
The Edge
books, a series of companion novels set in the same universe, but now with both
The Innkeeper Chronicles
and
Hidden Legacy
series, two incredibly promising series debuts, they have proved that there is much, much more up their sleeve either than
Kate Daniels.
Frankly, that's rare. We see it all too often where authors simply draw out a series beyond its natural ending point or inundate fans with countless spin-off series. I admire Ilona Andrews all the more, however, for choosing to begin new ventures. Moreover, both Clean Sweep and Burn for Me contain characters written in a completely different vein from Kate and Curran. I love Nevada, the family-oriented and loyal protagonist of Burn for Me, and I particularly love the distinct quality of her narration. It's funny, just as Ilona Andrews knows to be, but it also lacks the loneliness and despair that marked Kate's voice in Magic Bites, instead giving rise to a flavor of indomitable strength and courage tinged with vulnerability--a state I was able to instantly relate to.
Unlike Kate, Nevada is instantly like-able and her world, full of enormous leaps in social hierarchy, forces her to be a victim of her environment in more ways than one. The world-building in Burn for Me is intricate and intriguing from the start and only develops as the novel progresses, which I love. You're left with the sense that there is so much more left to be told, not just story-wise with this series, but also world-wise and I anticipate that sensation of peeling back layers to a new novel. Plus, for those of you who are fans of Ilona Andrews heart-stopping action sequences and penchant for mythological mysteries, have no fear; it is present in spades in Burn for Me.
Yet, what makes Burn for Me such an incredible novel is, simply put, its characters. Nevada, her ex-solider mother, her younger brothers and sisters, her hacker cousin Bern, her grandmother who isn't too old to appreciate a shirtless (and very good-looking) man, and, of course, Mad Rogan himself. Without divulging spoilers, Burn for Me places Nevada, a woman with relatively little magical power, under control of the corporation to which her business is mortgaged and, as a result, she much apprehend a powerful fire-wielding psychopath, Adam. Mad Rogan, known for his immense power and the enormous death rate he has been responsible for during the war, is searching for Adam for reasons of his own and when the two team up, sparks fly.
Mad Rogan isn't your typical hero. After serving in the war for years and wielding an unparalleled amount of magical ability, Mad Rogan is used to getting what he wants, who he wants, and when he wants them. Thus, he lacks empathy and sees murder as the first--and only--solution to every problem thrown his way. Needless to say, Nevada is terrified of the man despite the sexual tension palpable between them. To write a romance between a character such as Mad Rogan and a civilian such as Nevada is no easy task but Ilona Andrews truly makes us root for them. Moreover, it helps that we, as readers, are offered miniscule glimpses into Mad Rogan that Nevada lacks which gives us a stronger insight into the man. It isn't a fast-paced romance--but Ilona Andrews has never been known for that--and the slow-burn is torturous but oh-so-gratifying. Or, at any rate, I imagine it will be in the next few installments.
Long story short, Burn for Me is a must-read for fans of Ilona Andrews and/or the Urban Fantasy genre. It's a true breath of fresh air from the all-too-typical insta-love sequences with vampires or other paranormal creatures and the lore of this universe will grab you in and won't let you go. Plus, don't even get me started on Mad Rogan. Move over Curran because Mad Rogan is here! ;) Burn for Me. Read it.