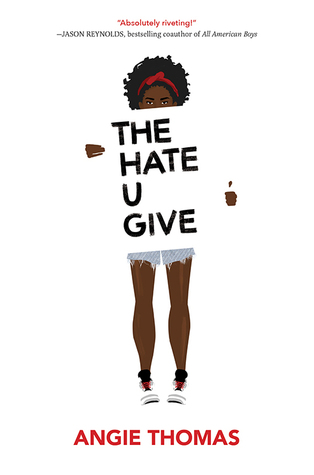 Title:
The Hate U Give
Author:
Angie Thomas
Rating:
5 Stars
The Hate U Give
is incredible, powerful, and an absolute must-read for everyone. Thomas's story begins with our heroine, Starr, witnessing the death of her childhood friend, Khalil, who is unarmed and shot by a white police officer. What ensues is chaos as Starr struggles to protect herself in the media and amongst the two worlds she straddles--her expensive private school where she is one of two black kids and the town where she grew up in which is overrun by gangs.
Starr's story is a beautiful rendering of what it means to be black in America; of the microaggressions and racial comments you have to bite your tongue from responding to, of the pain and fear and injustice. I may not have been able to relate to the community Starr lived in, but so much of this story hit so close to home. One of Starr's closest friends continues to make "slight" racial comments/jokes in the wake of Khalil's death and Starr is fed up of ignoring them and moving on. She finally confronts their toxic friendship and as someone who is currently biting my tongue in the face of "slight" racist comments/jokes on a daily basis (being as I am currently studying abroad in Europe and my program is very, very white) I completely understood.
But more than that, this is an incredible YA novel about family and growing up and finding yourself and what you believe in and what you're going to fight for. I especially loved the emphasis on family that this novel delved into, from Starr's parents to her uncle and even her brothers. I felt immersed in a loving African American family while reading this and I desperately want to go back. Thomas's writing is just that good, though--I cannot recommend this enough and I wish she had a backlog of twenty-five novels for me to comb through.
I think, often in YA, we tend to have "issue" books or "diverse" books which seem to stand on their own from other novels. I don't want readers to think of this novel as one of those books. Is it diverse? Yes. Does it tackle important social issues? Absolutely. But at its core, it's an important story about belonging that I think everyone will be able to relate to and definitely learn from.
In the wake of our election, I have been motivated to learn more now than ever before about what it means to live in America and have an experience different from my own. If you feel even a fraction of the anxiety and desire to create change that I have felt over these past few months, read this book. It'll make you feel as if you're on the right track, at the very least.