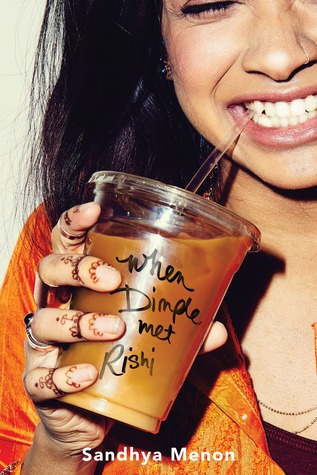 Title:
When Dimple Met Rishi
Author:
Sandhya Menon
Rating:
3 Stars
Release Date:
May 30th, 2017
When Dimple Met Rishi
isn't a perfect debut, but it has so much going for it with its South Asian leads that I want to focus on the good, more than the bad.
First off, my biggest misgiving going into this is that the premise is based on our eighteen-year-old protagonists being set up for an arranged marriage by their parents. So, let me clarify exactly what the synopsis of this story fails to explain in greater detail: Dimple has just been accepted to Stanford and desperately wants to spend her summer at a prestigious program in SFSU designing her own app. She's surprised when her parents agree as easily as they do to drop the money and foot her summer dreams, especially since her mother wants her to find a good husband (Ideal Indian Husband, actually) in college. When she gets to SFSU, however, she realizes that her parents old friends son, Rishi, is also there and unlike her, he's actually been told that their parents are considering getting them married and see this summer as a chance for the two to see if they're compatible or not. It's a little out there, IMO, but it's handled well since Dimple is career-driven and quickly dispels any notions of marriage the moment she meets Rishi.
From that unlikely start, the novel proceeds much like any contemporary romance--only so much better, really. Rishi has grown up in a wealthy household, appreciating his roots and staying true to them at every turn. Dimple, meanwhile, grew up middle class with a stay-at-home mom who had far too much time to focus solely on her daughter's appearance. Dimple feels stifled by the culture her parents push on her but through her interactions with Rishi, she grows to understand their perspective more--just as Rishi understands Dimple and her experience. Their conversations are a wonderful window into the South Asian American experience and while I didn't identify with just Rishi or just Dimple, I identified with many of the topics they covered and feelings they shared.
I especially love that Menon doesn't hesitate to include Hindi, Bollywood film references, and traditional Indian food in a very organic way throughout the novel. It doesn't feel forced and absolutely adds to the story. Further, Dimple and Rishi's parents are a huge part of their life and I love that they continue to play a big role in the novel, especially as we get both Dimple and Rishi's perspectives in this, so we get to see both sides of that parental relationship. Other positive aspects to this one? A diverse cast, ses-positive YA, and a really lovely exploration of Indian culture and the ways it can be confusing but also empowering to young South Asian teens.
Where this story falters for me, however, is in the execution of its romance. I enjoyed the love story, but I didn't fall head-over-heels for it and I found the inevitable break-up and resolution to be rather contrived and unnecessary. I loved the inner-conflicts that both Dimple and Rishi face individually during the course of their relationship, but the actual romance and backdrop at SFSU and secondary character drama didn't do much for me, personally.
That being said, I'm still thrilled to see a novel that breaks barriers with South Asian leads. For me, this is HUGE. Being able to see parts of your relationship with your parents or your immigrant experience in a book is not something I'm familiar with, so for that alone I think Menon succeeded. I hope she continues to write about South Asian Americans because I'm definitely on board for her next book, and her next book, and her next.