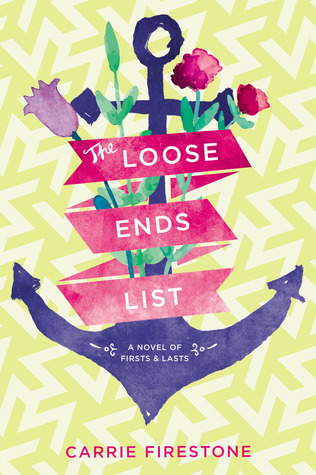 Title:
The Loose Ends List
Author:
Carrie Firestone
Rating:
4 Stars
This book had so much packed into it that I honestly just feel like I need to re-read it because I'm concerned I might have missed something. And I don't want to have missed anything about this debut. It's strange and bizarrely unique but I can't deny that I thoroughly enjoyed it.
The Loose Ends List
is about a family whose matriarch is dying of cancer. When she decides that her last wish is for her family to join her on a cruise around the world, they are helpless in the face of her disease. Maddie, our protagonist, loves her Gram and it's difficult for her to not only see her health slowly deteriorate, but it's equally hard for her to come to terms with the fact that the other members of the cruise are also dying. For a novel with such a morbid premise, there is a palpable sense of humor underlying these pages. It isn't bogged down by its subject matter but rather it celebrates the life of its characters and I commend Firestone for walking this fine line with aplomb.
Surprisingly, this book is about traveling and discovering new places and putting yourself out there, no matter how much time you have left. It's about family and holding on and learning to forgive and move on. It's about facing your fears and owning who you are, regardless of your sexuality or relationship status. There isn't a lot of friendship drama, here, but Maddie and her cousin are as close as sisters and their evolving relationship passes the Bechdel test with flying colors. Maddie's family dynamics, not just with her Gram but with her mother and father and brother, are all sources of thoughtful, remarkable characterization. Her romance with Enzo, the son of the cruise company owner, is deep and heart-breaking, but also open, trusting, and full of growth for both of them. Maddie forces Enzo out of his shell and, in turn, Enzo shows Maddie what a relationship built on equality and trust can be like.
But there is so much more that I loved about this novel. I loved its honest, open conversations about sex. I loved its inclusion of an older generation of characters who we often overlook and like to pretend don't exist in YA. I loved the difficulty with which Maddie makes bonds with those dying on the cruise ship and has to cope with that grief. There is so much grief, in this book, but there is also so much to be thankful for and to celebrate—Firestone really, truly doesn't make this a tragedy and for that, I loved it most of all. It's a really different, unique novel and not everyone will love it, but I certainly did. A re-read is in my future, not to mention a close stalking of Firestone's future releases. You can bet I'll be pre-ordering them at the first chance I get.