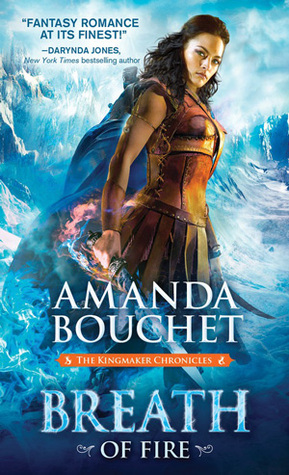 Title:
Breath of Fire (Kingmaker Chronicles, #2)
Author:
Amanda Bouchet
Rating:
3 Stars
Release Date:
January 3rd, 2017
I know a lot of people are looking forward to this book--and I was too, believe me--but I have to be honest and admit that I am, sadly, not going to be continuing with this series.
A Promise of Fire
held an immense amount of potential for a new romantic fantasy series and I loved the progression of both the romantic and fantastical elements. In
Breath of Fire,
though, instead of offering a breath of fresh air into the genre, Bouchet relies too much on traditional gender roles and an extremely central and heavy romance that I found myself rooting for less and less as the novel wore on. The problem, really, starts with Chapter 1 itself.
Breath of Fire
picks up precisely where
A Promise of Fire
left off (and I mean literally, it picks up
exactly
where we left off so don't expect any re-capping at all) and within a few pages it is clear that Griffin has uncovered Cat's glaringly obvious "secret" lineage. And, to express just how angry he is about her keeping this a secret, he proceeds to throw objects, smash vases, and then destroy their bed with his sword.
Wow.
Was this display of male aggression really necessary? Turns out this temper tantrum is all for nothing, though, because obviously Cat and Griffin are going at it like rabbits in the next chapter. But, okay,
fine,
trying to move on
back to the story.
Cat is forced to come to terms with the fact that she must face her past, at one point or the other, and she and her team set out on a quest to protect Sinta in the hopes of then expanding Griffin's kingdom. Ever-so-conveniently, though, whenever Cat recklessly throws herself in danger, a Greek god magically keeps her alive so she doesn't die. Plus, it's not just
a
Greek god who is invested in Cat's future--it's practically
all
of them. I'm all for the Special Person trope--I mean, I love fantasy!--but the Most Special Person To Ever Live trope?
Please.
Fantasy is such an easy genre when your main character has all the powers, all the gods and goddesses behind her; there are no limits to her powers and her abilities. It takes the challenge out of the equation and I love fantasy best when my magic has its boundaries. To that extent, I found the world-building far too convenient and wasn't worried or invested
at all
because I knew that Cat would figure everything out with the help of some Greek gods and no repercussions.
Add to that that every dangerous scene is followed by a sex scene, regardless of where they are or the fact that they might still be in danger, and I was rolling my eyes. I felt that Griffin and Cat are in love, but what I was really seeing was that they're in
lust.
And
constantly.
I get that, I do, but I just wanted to get back to the complex story and inner struggle of these characters, not their libido. Griffin also really grated on me throughout the first half of this novel. He's at the point where all he wants to do is protect Cat and that type of alpha behavior has gotten
so old.
It takes awhile for their relationship to become more equal and supportive and though I appreciate that it
does
get there, I hated how Cat constantly felt guilty for helping out in a fight because now Griffin would be focused on her and could get harmed.
You both can take care of yourselves!
Anyway, despite these annoyances, I continue to love the secondary characters in this story and the politics between all the houses. Plus, we are able to see more clearly how Greek mythology informs this world and a lot of aspects were incredibly exciting. I think readers who enjoy more romance from their fantasy novels will genuinely love this. Perhaps I'm a traditionalist but the infusion of fantasy and eroticism just didn't work for me, sadly. For readers eagerly anticipating this: don't write it off. It's a strong case of "it's not you, it's me."