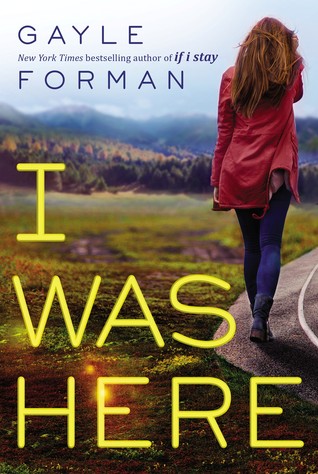 Title:
I Was Here
Author:
Gayle Forman
Rating:
4.5 Stars
I didn't expect to love
I Was Here.
Not only did it receive little publicity following the social media storm of
Just One Day/Just One Year,
but it further disappointed many longtime fans of Gayle Forman. Thus, I didn't even bother to pick it up when it released and the pretty hardcover has been resting on my shelves, collecting dust. But, the best part about traveling--especially in a country where you have no cell service and the WiFi is spotty--is that you wind up picking up the many discarded novels thrown into your suitcase.
I Was Here
often doesn't feel as if it was written by Gayle Forman. While she has written dark, gritty novels that touch upon serious issues before, they have never been quite in this vein. Cody, our heroine, is bitter, caustic, and deeply confused. Meg, her best friend, has just committed suicide by swallowing poison and she cannot help but feel guilty. While the two were inseparable for much of their lives, Meg's acceptance and scholarship to a prestigious academy took her away from the small town where Cody is still stuck. While Cody is proud of Meg and so, so happy for her, she cannot help but resent her life while she cleans homes and lives with Tricia, the mother who has never wanted her. Cody was more-or-less brought up by Meg's family, the Garcia's, and with Meg away at college, living a life that Cody barely knows about, the distance between them only grows.
So when Meg kills herself, Cody is entirely blindsided. Why would Meg, who is a shining star, a fixer, a ray of sunshine, decide that ending her life was the only way to end her pain? Why was she even in so much pain? Cody, desperately seeking answers, hacks into an encrypted file on Meg's computer and her discovery pushes her to question everything she knew about her friend, about grief, and especially about death.
I Was Here
is not an easy book to read. It's extremely dark and deeply unsettling in a way only few things are but it's also thought-provoking and beautifully written.
Cody is the type of unlikeable protagonist I adore--one whose flaws and fears hit close to home but in a believable manner. In the Cody/Meg dynamic, I'm the one who got away--the one who left my best friends in my small town to attend a prestigious academy near a sprawling city. So the distance that Cody experiences and the new adventures that Meg has which Cody doesn't know about--I can relate. I think all college students can. In some ways, that makes this story even harder to read but I loved Cody more for her resentment and love, mixed together into a ball of emotion that only Meg could unravel. But Meg wasn't there.
Cody's emotional arc is so well-written, both in terms of her acceptance of Meg's suicide and her relationships with Tricia, her mother who seems not to care for her, and Meg's family, Sue and Joe and their ten-year-old son. I further loved the smaller arcs--the relationship between Cody and her local librarian, the way we learn about Cody through Meg's eyes, Cody's odd relationship with Meg's roommates--and especially the way all of these small interactions come together to help Cody on her path to healing. Like I said, it's a hard book to read and was slow-going for me, as a result. Even with the mystery aspect, there's an underlying sense of dread throughout the story, simply because it's so difficult to talk about suicide and suicidal thoughts. Going into that dark place is terrifying. But I have so much respect for Gayle Forman for de-stigmatizing not just mental illness, but the thoughts that inspire actions such as suicide.
Of course, there is a romance. I'm in the minority here, I know, but I loved it. It's uncomfortable because Ben and Meg knew each other--well--before Cody even came into the picture but the awkward moments are what I love about this couple. I'll admit that we don't get to see the full arc of "bad boy" Ben's reformation following his encounter with Cody, so the impact they have on one another seems unexpectedly deep, extraordinarily fast. But Gayle Forman is among the few authors who can make me believe in an instant connection between two people--somewhere between love at first sight and attraction--and for me, it worked. It helped that Ben was flawed, that he had a past which was equal parts happy and sad, that he understood Cody and respected her wishes. It also helped, I might add, that he had blue, blue eyes. I'm a sucker for blue eyes.
I Was Here
is not my favorite of Forman's novels--that distinction belongs to
Where She Went
or
Just One Year
--I haven't quite figured it out--but it's still an excellent addition to the New Adult genre. It is, above all, an introspective read and I'd suggest waiting to read it at the right time. I didn't think I could wait nearly a year to read a new Gayle Forman release but there's something to be said about reading the right book at the exact right time. While
I Was Here
hasn't received the accolades of Forman's predecessors, I still believe it to be just as worthy of praise, if not at least one thoughtful read.