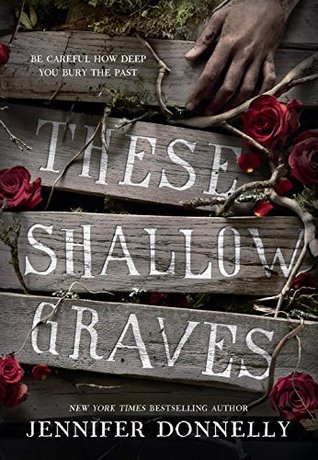 Title:
These Shallow Graves
Author:
Jennifer Donnelly
Rating:
5 Stars
Release Date:
October 27th, 2015
These Shallow Graves
is Jennifer Donnelly's third historical fiction novel for young adults and, like her previous two, I fell head-over-heels in love with it. Much like
A Northern Light,
Donnelly's latest features a curious, determined protagonist and a mystery whose secrets threaten the very lives of our characters. Moreover, it is littered with snippets of dialogue and scenarios which serve to distinguish the sharp line between women and men, particularly the hypocrisy and cruelty that kept women from attaining equal rights for so long.
I really,
really
love Donnelly's work, not only because it's well-written and entertaining, but because these are the types of novels I want young girls to read. I want them to open a book and find a heroine who is ambitious and driven, yet finds herself held back by society and still manages to push forward. I want them to read novels where men are supportive of a women's career and interests, even when most other men are not. I want them to find stories that entertain them but also teach them about the struggles women did have in the world and all the opportunities they have now--opportunities they should seize the way Jo Montfort seizes those before her.
These Shallow Graves
has so much going for it, from its compelling murder mystery to its terrifying villain to its layers and layers of secrets. It has a slow-burn, swoon-worthy forbidden romance that will make you melt and a heroine who you can look up to. But more than that, it's a perfect snapshot of the lives of multiple women during this time period. Jo, our protagonist, is a wealthy young woman expected to marry well when her father suddenly commits suicide. While her uncle has it reported as an accident, Jo's curiosity and desire to become an investigative journalist propel her to uncover that her father was shot and murdered. While this leads her on a wild goose chase for the killer but it also brings her in contact with the dirty underbelly of the city, crawling with prostitutes whose eyes are dead, and Fay, a female thief who, despite not having family to tie her down, is nevertheless without freedom. A Donnelly novel stays with me long past its last page because of the themes it echoes, reverberating not only through the book but through my own life as well. I think all women can comprehend the situation these young girls are thrown in and the fact that we can still empathize with that, despite the progress we have made, is its own kind of sadness.
Nevertheless, there is much happy within this somber story as well, from Jo Montfort herself to Eddie Gallagher, the handsome journalist she meets and convinces to help assist her in solving this crime. Jo and Eddie are one of my favorite couples and their interactions are laced with a deeper understanding of one another which I truly appreciate. Moreover, their love story never takes away from the personal growth Jo experiences or the plot line but it is the cherry on top, which I appreciate.
These Shallow Graves
is anything but shallow; a thought-provoking novel that pushes the boundaries of what YA is currently doing to what it could be constantly doing. Moreover, it's Jennifer Donnelly's latest book. It really needs no more endorsement than that.