Title:
Jackaby (Jackaby, #1)
Author:
William Ritter
Rating:
DNF
"Miss Rook, I am not an occultist," Jackaby said. "I have a gift that allows me to see truth where others see the illusion--and there are many illusions. All the world's a stage, as they say, and I seem to have the only seat in the house with a view behind the curtain."


Newly arrived in New Fiddleham, New England, 1892, and in need of a job, Abigail Rook meets R. F. Jackaby, an investigator of the unexplained with a keen eye for the extraordinary--including the ability to see supernatural beings. Abigail has a gift for noticing ordinary but important details, which makes her perfect for the position of Jackaby's assistant. On her first day, Abigail finds herself in the midst of a thrilling case: A serial killer is on the loose. The police are convinced it's an ordinary villain, but Jackaby is certain it's a nonhuman creature, whose existence the police--with the exception of a handsome young detective named Charlie Cane--deny.

Doctor Who

meets

Sherlock

in William Ritter's debut novel, which features a detective of the paranormal as seen through the eyes of his adventurous and intelligent assistant in a tale brimming with cheeky humor and a dose of the macabre.
I nearly made it to the half-way point of
Jackaby
before admitting that I didn't know the contents of the last six chapters I had read and, really, should just give up. With such a captivating cover and compelling plot line, you'd think
Jackaby
would enchant me; hook, line, and sinker. Unfortunately, however, I found this novel to be just a tad too--dare I say it?--unoriginal. Ritter's concept of creating a character like Jackaby, a detective who could see the supernatural realm and used those skills to solve crime, is nothing short of brilliant. I've heard this be described as a cross between the two hit BBC shows, "Sherlock" and "Doctor Who", and as a fan of both, I have to admit it's an apt comparison.
However, I didn't much enjoy the narrative perspective this novel is told from. Abigail Rook, a young woman seeking employment, decides to become the assistant Jackaby needs in his work and though her voice is affable and perceptive, detailing the oddities that set Jackaby apart from every other human, it lacked emotion. Ultimately, I just didn't feel for Abigail or grow to know her intimately, as a character, despite the fact that it was she who narrated the tale. Although I found Jackaby to be fascinating and thought that many of the secondary characters introduced were charming, there was something a little too rote-like about the manner in which information was departed through this novel that left me unable to connect with the story line.
Whatever it is that didn't allow
Jackaby
to join my favorites shelf, I am the most sorry for it. I wanted to love this novel, desperately, and I am distinctly in the minority in my opinion of the characterization and prose. As such, I recommend that readers give this one a try for themselves. If you wind up liking it even a fraction more than I do by the half-way point, chances are, you're going to love this. I'll just waddle into my corner labeled "Black Sheep" now, shall I?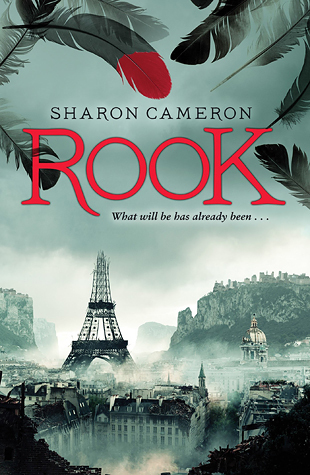 History has a way of repeating itself. In the Sunken City that was once Paris, all who oppose the new revolution are being put to the blade. Except for those who disappear from their prison cells, a red-tipped rook feather left in their place. Is the mysterious Red Rook a savior of the innocent or a criminal? Meanwhile, across the sea in the Commonwealth, Sophia Bellamy's arranged marriage to the wealthy René Hasard is the last chance to save her family from ruin. But when the search for the Red Rook comes straight to her doorstep, Sophia discovers that her fiancé is not all he seems. Which is only fair, because neither is she. As the Red Rook grows bolder and the stakes grow higher, Sophia and René find themselves locked in a tantalizing game of cat and mouse.
Oddly enough, I don't have much to say about Rook. I really enjoyed it--thoroughly, in fact--and though some readers argue that its length is its downfall, I can't admit to having found it a problem. The characters and world that Cameron builds is so wildly entertaining and imaginative that I simply didn't want to leave. I adored this enemies-to-lovers romance, the spying, the twists and turns, and, of course, the lady savior at the heart of it all.
Rook
is every bit as intriguing as its synopsis and cover promise and though I find Cameron's debut duet to be of stronger stock--simply more memorable, although perhaps because the characters stayed with us for two books opposed to one--this is an extremely well-written stand-alone. I look forward to Cameron's future endeavors very much; her brand of steampunk is unique and unparalleled.