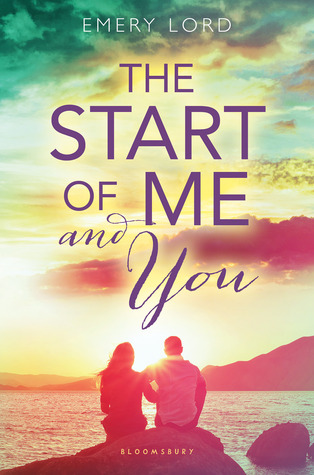 Title:
The Start of Me and You
Author:
Emery Lord
Rating:
5 Stars
Release Date:
March 31st, 2015
I don't know if this has ever happened to you, but sometimes I'll glance over at the cover of a novel or read the descriptive copy and I'll just
know,
viscerally, that I'm about to fall in love with literature all over again. It's not that there aren't more beautiful covers or better written descriptive copies out there; it's just a gut-reaction that hasn't led me astray. I felt it, first, in the fourth-grade while browsing through a Scholastic catalog for the upcoming book fair and stumbled upon
The Cry of the Icemark,
a fantasy novel which was read and re-read throughout the formative years of my young adolescence. I felt it again when I gazed at
The Scorpio Races,
trying to find a Stiefvater novel which would make me love her as her fans did. I experienced that pure love-at-first-sight longing with
Fire,
a novel I'd never seen or heard of but which remains my all-time favorite to this day. Even on Amazon, as I click on titles to pre-order, I knew, inexplicably, that
Isla and the Happily Ever After
would become my most beloved Stephanie Perkins novel yet. Most importantly, though, despite not having falling head-over-heels in love with
Open Road Summer
the way I know countless other readers did, I could not resist
The Start of Me and You.
It makes no sense, these random novels from different genres and authors, most of which I'd never typically pick up, yet gravitate towards only to fall madly, deeply, in love.
The Start of Me and You
is one of those unbelievable love stories for me; it fits into all the curves and prickly corners of my heart and
thank you, thank you, thank you
Emery Lord for writing it.
Lord's sophomore novel takes place roughly a year after Paige's boyfriend of mere months, Aaron, jumps of a cliff during a Boy Scout meet and accidentally drowns. Unlike a typical grief novel, however, Paige's pain following Aaron's death has far more to do with her own coming to terms about death and its sudden, fleeting quality than it does about him. Of course Paige mourns for Aaron, but mostly she grieves for the fact that his life was cut short; that he died so young and full of life. For nearly a year, Paige has suffered PTSD, fearful of drowning and unable to stop dreaming of it. Moreover, Aaron's death has affected her entire community, making her mother far more overprotective than before and thrusting Paige into the spotlight as a recipient of countless condolences. Commencing her junior year, however, the last thing Paige wants is to be the same, mopey person she's been for the past year. Lord's grief novel isn't about the immediate pain afterwards but rather about the lingering effects of mourning; the way it creeps into your thoughts without debilitating you, the way you try to move on and finally begin to succeed, the way you realize there are so many other types of grief in life beyond what you've already experienced. In order to truly become a new person, though, Paige carefully outlines a set of goals for herself to accomplish, one-by-one. Whether it be something as simple as attend a high school party or join a club, or something more difficult like date someone again (preferably her crush from sixth grade, Ryan Chase), travel, or finally get back into the pool, she's determined to make this year better than the last.
What I loved about
The Start of Me and You,
from the onset of the novel itself, is that it's set up as an introspective novel. Paige's voice jumps out from the beginning itself--raw, natural, and real--and as she changes, the self-assurance and happiness she finds leaks into her narrative and into our hearts. From just the beginning chapters, I knew Paige was the type of heroine I'd become friends with in a heartbeat; loyal to a fault, flawed but kind hearted, and a nerd to boot. Moreover, this story is, first and foremost, about
her.
For romance lovers, I hate to say it, but the majority of this novel is
not
a love story. It's a Paige story.
Paige's three best friends--Tessa, Kayleigh, and Morgan--play such a pivotal role in her life and I want to applaud Lord for writing authentic female friendships. Each of Paige's friends have their own strengths and weaknesses, their own struggles to resolve alongside Paige's, and they each bring a unique perspective to her life. Moreover, just as Paige changes over the course of the novel, her friends do too, each dealing with their own issues but coming out stronger and more beautiful than before. I admire the strength of their bond, their frank conversations, and even their disappointed musings as they discover that yet another cute teenage guy is a misogynist. What's more, Lord doesn't hesitate to dedicate chapters solely to these girls. In fact, I'd have loved this book even without the romance element; the rock-hard friendship between these girls was all I really needed.
Yet another aspect Lord nails is the familial relationships. Paige's divorced parents aren't her greatest allies; she doesn't get along with her overprotective mother and having to follow rules her friends don't have to abide by is difficult. What makes Paige's life at home all the more strange, though, is the fact that her divorced parents have been dating one another--for four months! Paige doesn't want to see her parents unhappy--after all, they got a divorce for a reason--and she can't see their new arrangement working out at all. In fact, it seems as if she and her younger sister are going to be caught in the middle of it all. But Cam, Paige's thirteen-year-old sister, is ecstatic about their parents reunion and Paige feels more alone than ever. The only person she can talk to is her Grandmother, suffering from Alzheimer's. Paige's relationship with her Grandmother--the strength she finds within her Grandmother's stories and the comfort she feels from her presence--are some of the most touching aspects of the novel. It's painful to see that her Grandmother often doesn't remember discussing Paige's life with her and watching her patiently re-tell the same fears, hopes, and dreams she had unburdened only a day prior isn't easy. But Paige's Grandmother doesn't enforce rules, like her parents, and isn't blinded by hormones, like her sibling. It becomes evident that Paige's Grandmother is, above all else, an inspiration to her; someone who encourages her through blind faith in her abilities. I
love
that Paige has someone like that in her life and that she is not only moved, but strengthened, by her Grandmother's past experiences and courage. For me, the fact that Paige is so heavily influenced by such an incredible female role model is such an important part of this novel.
Nevertheless, the aspect of this novel that kept me on the edge of my seat throughout those last few chapters is, of course, the romance. Paige has her sights set on Ryan Chase, recently single, but winds up befriending his cousin Max, who recently moved into their school district. Becoming friends with Max means being a part of Ryan's life too and as Paige's crush persists, she finds herself calling Max one of her best friends. Max and Ryan quickly integrate with her already close-knit group of girlfriends and Paige goes beyond to befriend her Quiz Bowl team, among which Max is the captain. The jump from strangers to best friends is slow-going between Max and Paige and, often times, Paige's crush on Ryan is infuriating. While Ryan is an incredible person, anyone can see that Max is the one who is perfect for her. But their love story is an entirely well-worth slow-burn. Paige shifts her attentions from Ryan to Max well before the end of the novel and though their journey isn't as straight-forward as you'd think, it's all the more rewarding despite that. More than a romance, though, Paige's friendships with Ryan and Max, particularly, allow her to let other people in and open her heart. Max understands her in ways even her best friends don't and their tight bond makes you wish for a male best friend of your own. Moreover, their love story is made all the more special by the fact that Max and Paige are the "plain" counterparts to their best friends, Ryan and Tessa, who are bold and beautiful. Paige never even considers Max crush-worthy because he doesn't have the classic good looks or charm Ryan possesses, so the fact that these two fall in love for all the right reasons and none of the artificial ones makes my heart melt.
The Start of Me and You
has so much to offer to the YA community. From inspirational teachers to through-thick-or-thin friendships, from figuring-their-life-out parents to encouraging family members, from new beginnings and blossoming friendships, from feminist discussions to an authentic display of grief, from students determined to pursue their own interests to Jane Austen references...there's something in this book for everyone. It can be nerdy and light, funny and warm; it can be fearful and shaky, tentative and shy; it can be grief-stricken and sensitive, brave and bold. It's unlike anything you've read before and yet, it's all you could possibly want from this genre. Again and again and again and again.