Title:
First Frost (Waverley Family, #2)
Author:
Sarah Addison Allen
Rating:
3 Stars
Release Date:
January 20th, 2015
Anyone who has read
Garden Spells
can confirm that the novel hardly needs a sequel. It's a magical, beautiful stand-alone novel and Allen's debut holds a special place in my heart.
First Frost,
on the other hand, does not. It takes place a decade after
Garden Spells
ended and though the re-visit to the Waverley household is familiar--warm, comforting, loving--it feels strangely unnecessary. I didn't
have
to know of Claire's new candy-making business, Sydney's desire for a son, or Bay's feeling that she belongs with Hunter John's son. While I loved being back in Waverley House and the distinct feeling of Allen's writing is a sensation that wraps around you and holds you tight, like a blanket,
First Frost
is possibly the most disappointed I have been by her work. If it were not that these were beloved characters I knew before--and intimately,
loved
these characters--I wouldn't even have given
First Frost
three stars.
The issue with Allen's latest is the fact that the conflict at hand is flimsy. I appreciate the post-marriage struggles Sydney and Claire face. Their demons from
Garden Spells
aren't as pronounced but that doesn't mean they have disappeared. Thus, I rather enjoyed being back in their minds, witnessing them come to terms with the change in their lives that time inevitably introduces. Most of all, I loved Bay's narrative and the teenage issues she found herself face-to-face with. Yet, the coming together of these plot lines didn't work quite as seamlessly as it worked in
Garden Spells.
The shift from Teenage to Adult perspectives wasn't perfection. The strange side plot line with an odd old man entering town, poking around and asking about the Waverley's, ended too abruptly and anticlimactically to satisfy. Ultimately,
First Frost
lacked the strength of
Garden Spells.
Claire and Sydney were a unit and in being so, the union of their sisterhood from
Garden Spells
is a far more compelling story than their joint unity in
First Frost.
Allen's latest isn't
bad,
not in the least. It is beautifully written and, as always, her prose is impeccable and characterizations are point-on. In my eyes, though, there wasn't enough of a story to be told, here. I didn't feel moved by these characters or their struggles as I was in
Garden Spells.
I wasn't charmed or enchanted or rendered speechless by the magic in the air.
First Frost
is a novel that fans of Allen are bound to read--and I don't fault them. It's a few hours well spent in the company of an author and characters I adore. Just don't go in expecting the caliber of Allen's debut.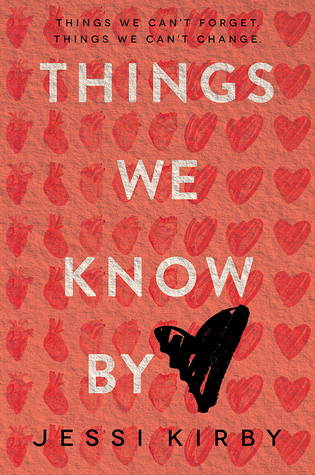 Title:
Things We Know by Heart
Release Date:
April 21st, 2015
Things We Know by Heart
is laughably predictable. Unlike Kirby's
Golden,
which delivered on being more than
just
a road trip novel,
Things We Know by Heart
does not. From what its synopsis says, it is easy to deduce that Quinn, who has lost her boyfriend to a horrible accident, tracks down the patient who received his heart, Colton, and falls in love. Naturally, the romance is well-developed and sweet, making Quinn believe that there is more to Colton than simply sharing a heart with her deceased boyfriend. Quinn comes away from their love story knowing that sharing a heart does not mean sharing a personality and as she falls for Colton, an entity separate from her former boyfriend, Trent, there is only a calm sense of relief to be found.
Yet, Kirby creates a novel about grief that is strangely lacking. Quinn chases after Colton well over a year after Trent's death and, as a result, her grief isn't fresh or raw. It's a different kind of grief, which I appreciated, but her interactions for Colton do little to assuage her grief except replace it with love. Quinn has a supportive family, a strong relationship with her older sister, and she discusses--in great length--her relationship with Colton before labeling it as love. Nevertheless, for me, the overwhelming message felt as if to overcome grief, one must simply find true love.
Things We Know by Heart
beautifully writes Quinn and Colton's romance and, moreover, Colton's thoughts as a heart recipient, though never explored from his perspective, are realistic, meaningful, and in-depth. I learned so much more about organ donations and the pain felt from both sides of the equation--how it's not
just
happily ever after once the organ is transplanted successfully--from this novel. Regardless, though, I felt as if Kirby could have used this innovative, fresh idea and done more with it than make it a love story. I wanted more of Quinn's emotional journey as explored through her grief. I wanted more of Colton's anger and confrontation after realizing the truth Quinn hid from him as she never reveals that she is the girlfriend of the guy whose heart now beats in Colton's chest. Instead, this romance plays out in a predictable manner, complete with the "break-up" towards the end that eventually culminates in a relationship.
Things We Know by Heart
just felt too easy for a novel about life and death. Perhaps if this were written more like
If I Stay
with us getting to know Trent and Quinn before his death, this would have made a stronger impact. As it rests, however, it is a solid love story and a unique premise. Yet, if you've come looking for the type of depth and scope offered by the author of
Golden,
re-read
Golden
--there's little to be found here.