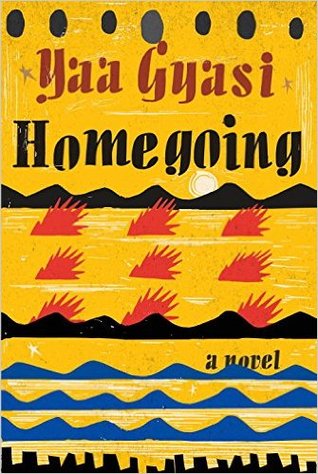 Title:
Homegoing
Author:
Yaa Gyasi
Rating:
5 Stars
I love Chimamanda Ngozi Adichie's TED talk, titled "The Danger of a Single Story," and I thought of it often while reading
Homegoing.
In fact, the absolute best aspect of this novel is that it doesn't fall into the trap of the danger of a single story; instead, this a novel told from fourteen different perspectives, over seven generations of a family whose half-sisters are separated from birth and whose consequent lives take them down very different paths. Effia, who marries a white man, stays on in her homeland, the consequent generations of her family witnessing the rise and fall of colonization, all while playing a large part in the slave trade themselves. Esi, meanwhile, is sold into slavery and her lineage continues, in America, living a completely different life from their counterparts in Ghana.
It's a striking, beautifully written story. It took me a long time to read, not because it was slow or boring, but rather because it was so incredibly thought-provoking. Gyasi makes me care for each of her characters, wishing that I got more than just one chapter from their perspective before jumping years into the future onto the next generation. But, I'd feel the same sense of loyalty and care for the next character I encountered. Gyasi has a talent for weaving these fourteen perspectives together in such a way that it never felt as if a large chunk of time or ocean was missing as we went back and forth between Ghana and the United States.
As an American, the chapters told from the perspectives of Esi's descendants, first slaves and then black men thrown in jails and then victims of segregation, struck hardest. To be frank, the scariest part of reading them is that, in so many ways, not much has changed: black men are still thrown into jails, they are the victims of police brutality and hate crimes, their lives are dominated by the sole aspect that they are black. It's a rude awakening that America has so much farther to go, to change.
The chapters set in Ghana were a fascinating look into the lasting effects of colonialism, even well after the white man had left. What I appreciated most about these chapters are that Gyasi never writes stereotypical characters. Her characters are gay, disabled, angry, confused, labeled crazy, victims of their pride or ego, etc. She doesn't make it easy for them, even if they are in Ghana and seem, at first, to be the luckier half of this family tree.
There is so much more to say about this novel but, mostly, it simply demands to be read and pondered over.
Homegoing
is an incredible, ambitious debut. In the wake of this election, at a time when hate crims are surging and the lives of minorities seems most fragile,
Homegoing
offers a much-needed perspective that prides itself on being not just a single story, but many stories, over many generations and through many eras of history. It is incredible.